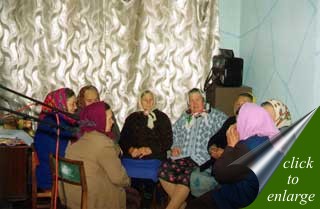 In a way, it was not easy to record the choir. The age of women made it difficult to keep a recording session for a needed time.
Plus, they couldn't stay for a long out of their daily house work. In a village one has always something to do: to feed cows, goats, geese, chicken, pigs regularly; to cook for a family three times per day, to work on plantation, to prepare enough wood for a winter etc.
So, when I told women to be so nice as to sing the same song for the fifth time again, they told me:'Come on, we don't have time. Pigs and chicken are hungry at home. Let's record some more songs and we go home to do the work.' Here I understood, I shouldn't demand too much of recording quality from them. Naturally, they are not studio musicians at all.
It was quite a job for me to make them silent before and immediately after the song, not to dance on the floor while singing, not to talk to each other when a leader is singing, not to cough, not to sneeze, not to ... oh, it was difficult! But, finally after repeating the same song again and again, they obtained discipline and recording went on easier.
There was even some kind of a heroic act! While recording I couldn't see women. I was in another room with headphones on. When they fineshed singing the next song, after a pause of approximately 5 seconds I heard a burst of laugh from women. When I came in, I saw one woman had a face red as a soviet flag and breathing hard as if she had just appeared on a surface after diving for a long into the sea! She wanted to cough, but she didn't want to spoil the song, so, she kept her breath for nealy two minutes. Everybody saw that, but they went on singing with mood cheered up. Thanks, that song was a cheerful one.
Sometimes they forgot the text of the song because of age and hundreds of songs in their repertoire. Sometimes they didn't start or didn't end precisely together. The tonality or tempo of the song could change notably during the song. All this is inexcusable for professionals. But, for this choir, for this heroic old ladies this is not a profession. It's a part of their life: simple, naive, sincere. One shouldn't ask their souls to bring out a polished result. It's compete improvisation.
I suppose it to be a genuine and unique folk singing. And I keep on recording this choir.